John Boyd
Tehuacana.........
Located at one of highest points (altitude 661 ft.) between Dallas and Houston. First noted in history by Philip Nolan's trading expedition, 1797. Home in early days of Tehuacana Indians, a Wichita tribe, who engaged in farming and peaceful pursuits until they were destroyed in early 1830s by Cherokees. Town is on Mexican land grant obtained 1835 by

John Boyd,

member First Congress Republic of Texas.
In 1847 Boyd became first postmaster, and in 1849 nominated Tehuacana for capital of State of Texas. However, Austin won in election held in 1850. Tehuacana Academy, a Presbyterian school locally organized and supported, operated ten years. It was organized and supported, operated ten years. It was closed during Civil War, but furnished incentive (with help of Boyd) for founding in 1869 of Trinity University. Boyd's gift of 1,520 acres of land for college use includes present campus, where Trinity (now in San Antonio) operated until 1902.
Was an exemplary member of the Cumberland Presbyterian Church of which
he was an elder for more than 20 years.
As principle founder of Trinity University, he gave thousands of dollars to place it
on a sure basis. He died in great peace at his home."
This historic graveyard reflects the heritage of Tehuacana, an early Texas town founded in the 1840s by John Boyd (1796-1873). Elected from Sabine County to the First and Second Congresses of the Republic of Texas, Boyd moved to this part of the state and established the town's first post office in his mercantile store in 1847. His offer of land and money convinced the Cumberland Presbyterian Church to begin Trinity University here in 1869.
Although no deed record exists for the cemetery, the earliest documented burial is that of Boyd's granddaughter, Roxana B. Campbell, who died in 1850 at the age of four months. Hers is one of many tombstones marking the burials of infants and children during the 19th century, bearing witness to the harshness of life on the developing Texas frontier.
Others buried here include William E. Beeson (1822-1882), first president of Trinity University; James Lisbon Lawlis (1856-1902), founder and first president of Westminster College, which moved to Tehuacana after Trinity University relocated in 1902; Robert Marshall Love (1847-1903), who grew up in Tehuacana and was serving as Texas State Comptroller at the time of his death; Minnie Schuster Reck (1874-1950), who boarded college students in her home (those former students erected a memorial in her honor at the community center); and town founder John Boyd.
The Tehuacana Cemetery Association maintains the burial ground, which, at the turn of the 21st century, contained more than 800 marked burials and a number of unmarked graves. - Historical Marker Text. Marker erected 2001. Located on CR 226 (Cemetery Rd.) at Westminster St., Tehuacana.
The Limestone County Historical Commission.


The Limestone County History Museum Site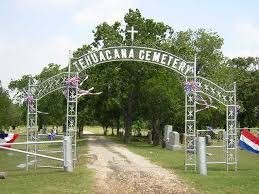 TEHUACANA ACADEMY.
Tehuacana Academy, a pre-Civil War Cumberland Presbyterian college,
operated at Tehuacana in Limestone County for at least ten years.
Dr. Franklin L. Yoakum and Daniel G. Molloy were teachers in 1852.
The academy was a local enterprise in which Bible courses were not required
and denominational views were not taught. It perished during the Civil War
but furnished an incentive for the founding of Trinity University at Tehuacana in 1869.